Cinefetish
13 09, 12
Los Angeles film fetishists (those who enjoy cinema primarily as a spectacle, rather than for its narrative properties) will be thrilled to know that the Arclight theater in Hollywood has put together a
retrospective to celebrate the 60th anniversary of Cinerama
.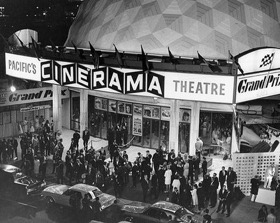 Unfortunately none of the few films originally shot with this innovative system stands out for aesthetic or narrative qualities. However, I encourage those of you who have never seen a Cinerama film to take advantage of this rare opportunity and flock to the intersection of Sunset and Vine (that's where the line is probably going to start) to view at least one of these oddities. My recommendation comes with a warning. As Samuel Goldwin once said: "A wide screen just makes a bad film twice as bad." Since the Cinerama system triplicates the aspect ratio of the frame, you do the math…
Click here
for an informative article including hi-res publicity material about
This is Cinerama.

Click here
for an extensive online archive dedicated to 70mm films.
Note that
2001: A Space Odyssey
was
not
photographed in 3-film-strip Cinerama but in Super Panavision 70 and then "rectified" to simulate the Cinerama format.
Click here
for more information.